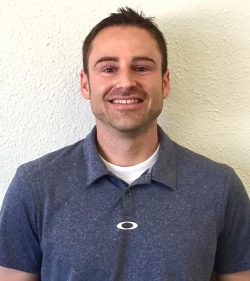 Physical Therapist
Education:
1999 Bachelors in Science Fresno State University–Exercise Science

Graduated Summa Cum Laude

2004 Masters in Physical Therapy, Fresno State University

Graduated Summa Cum Laude

2014 Doctorate in Physical Therapy, Evidence in Motion

Graduated Summa Cum Laude
Certifications:
State of California Physical Therapy License
National Strength and Conditioning Association
Certified Strength and Conditioning Specialist
Bio:
Trevor has worked in outpatient physical therapy for 14 years under the direction and mentorship of some of the best known and respected therapists in California. In addition to his years in practice as an understudy, he has attended number of continuing education classes, both short term and long term. Most notable are the completion of three, year-long orthopedic clinical education programs in Folsom and Grass Valley.
Currently, his interest and specialties include orthopedics for the hand, shoulder, cervical and lumbar spine. His relentless pursuit of understanding coupled with a level of authenticity, that is truly refreshing, make him a favorite among first time and veteran patients. However, trumping his passion for learning, is a passion for using relevant terms and topics to communicate the realities of the physical and spiritual worlds to help patients reach their potential.
Trevor is a huge fan of anything music, basketball, and philosophical discussion. Most evenings and Saturdays, you can find him mentoring youth through Every Neighborhood Partnership.